Like every year, this year too, the fashion people of New York witnessed the Fall/Winter collection by top designers freshly into the New Year. And like always, it was all things fab! What's even better is that two of our home girls; Deepika Padukone and Priyanka Chopra were one of the front row viewers at NYFW. Let's take a moment to be proud fangirls and appreciate these beauties for conquering such a prestigious spot in the fashion week that is one of the "Big 4" fashion weeks of the world!
Now, let's take a look at the highlights of this season, from the city that lives and breathes fashion!
Staying true to the Pantone color of the year, the greenery was seen a lot on the runways but designers have moved on from the military green of last season's collections.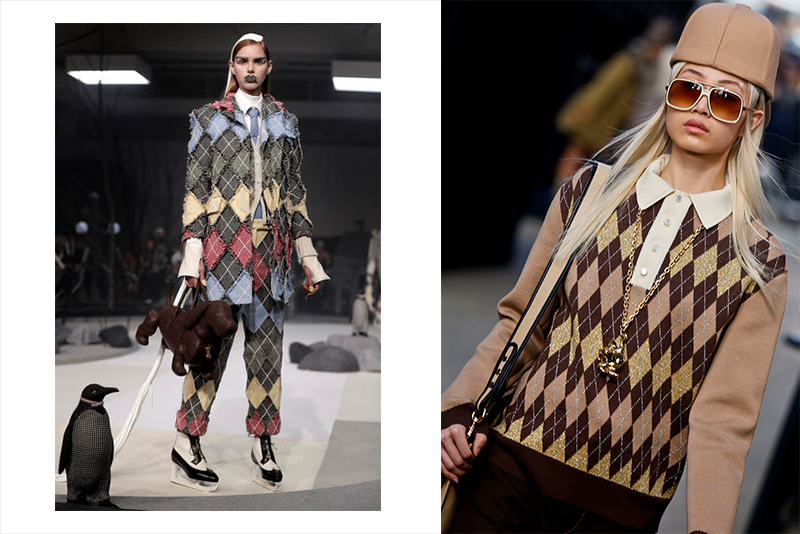 Think Ivy League cardigans, think old-school diamond prints. Blair from Gossip Girl ring a bell? Argyle cardigans are back with collections from Marc Jacobs, Thom Browne and others.
What if we told you that dressing like summer during fall is not just a possibility, but the new 'it thing' in the fashion world? You wouldn't believe us, but you'd definitely believe these designers from the runways of NYFW this season, who used floral prints and vibrant colors in their fall collections. The most highlighted color amongst this genre was auburn and everyone from Oscar de la Renta, Michael Kors to Christian Siriano did it with extra quirk and extra style this time around.
Last season saw cold shoulders, off shoulders and one shoulder. What does this season have in store in accordance to necklines? Think about a blend of the above mentioned necklines….that's right! Cold one-shoulder necklines. Wonder where these must be inspired from? We are, too!
Your favorite capes; REVAMPED! Brandon Maxwell, Ralph Lauren and many others changed the way a cape looks just by creating slits at the shoulders or creating really long sleeves!
Kaleidoscope prints were all the rage this season. They were mind-boggling and very unlike fall but somehow these creative geniuses made them work and work rather amazingly! They were a buzz off the runways as well as on them.
These are our personal favorites this time around (they were rather difficult to pick.) What are yours?
-xoxo
*All images are sourced.